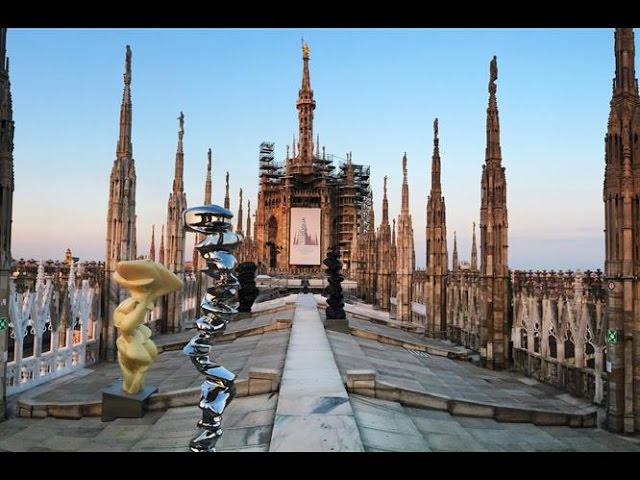 Tony Cragg, dialogue with the Duomo
A Contemporary Art exhibition during Expo on the Terraces

Duomo of Milan Terraces
16th April – 31st October 2015


The Duomo Cathedral, in its religious, cultural and historical dimension, has always measured itself with the language of evolving culture through the centuries.
A great Contemporary Art event held for the first time on the Terraces of the Duomo of Milan: Tony Cragg, an internationally renowned artist, with his works animated by movements ascending towards the sky, competes with the Spires and the centuries-old history of the Cathedral.
An exhibition like this has never been set up over the Duomo Terraces because of the arduous transport of such big sculptures to an unusual place and inaccessible height settled in the heart of the city. These works of art has been raised up to the Terraces through a crane, in the same way as marble blocks are raised during the activity of the Veneranda Fabbrica working sites.
All of this to make the best of the dialogue between the Duomo and the art languages, bringing Tony Cragg, sculptor of primary importance in the artistic world, to such an important and evocative place in Milan. This work requires sensitivity, great skills and the ability to perceive the deep network of invisible correspondences that rules reality: carving the marble, Tony Cragg wants to build a bridge, a link between apparently far apart dimensions. Only apparently. The marble assimilates the rhythm of time and through the artist's work it is shaped into forms and contours that vibrate to the infinite: the sculpture is movement, pure and tangible, substance that carries a transcendent power without equal.
An event such as Expo wants to give vigour to all the cultural energy that the city can express. Milan must represent itself in all of its cultural dimension looking forward to the future and to the international context: it will be an essential opportunity to experience these skills. The Duomo Cathedral is the summary of these values.
Tony Cragg's sculptures, starting from the installation of Paradosso, inspired by the Madonnina and inaugurated inside the Duomo Cathedral the last 4 November 2014 where will remain during the whole Expo semester, are characterized by shapes aiming to the infinite, where everyone can find its own cultural and artistic dimension as a sign of personal free interpretation.
Everyone visiting the Terraces during the Expo semester will be able to be part of this experience using their own creative freedom.
Tony Cragg's exhibition is held over the Duomo Terraces from the 16 April to the 31 October 2015. The opening was opened to the public and was held on Thursday, April 16, 2015 at 6.00 pm on the Duomo of Milan Terraces. Admission to the Terraces is free by steps on the Northern side (Piazza del Duomo / C.so Vittorio Emanuele II).

Duomo of Milan Terraces
16th April – 31st October 2015

TONY CRAGG. A DIALOGUE WITH MILANO CATHEDRAL
FOR THE FIRST TIME A CONTEMPORARY ART EXHIBITION ON THE TERRACES DURING EXPO

With the patronage of : EXPO
In collaboration with: 8ARS

Terraces 8,00; Reductions € 4,00
By lift: Full price € 13,00; Reductions € 7,00

Info:
Tel. +39 02 72022656 - +39 342 5666084
press@duomomilano.it